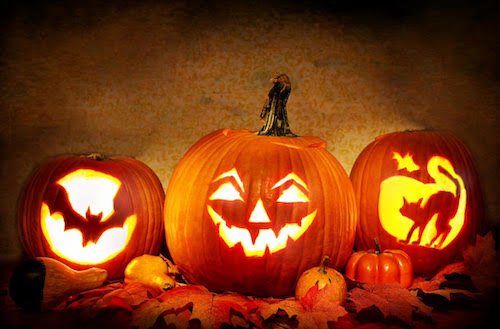 25 Oct

Halloween in Pembrokeshire all things Spooky
Halloween in Pembrokeshire, all things Spooky
If you are here in Pembrokeshire over Halloween here are a few spooky events that are happening within the county and in some of our favourite family venues too.
The Run Up to Halloween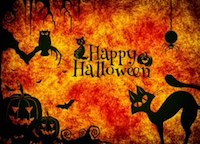 The Big Bang Weekend is happening in Saundersfoot. 
October Friday 26th and Saturday 27th.
A real family friendly weekend that merges Halloween festivities and Bonfire Night celebrations. Activities include trick or treat trail, pumpkin carving, fancy dress competition and 2 fire work displays on the Saturday. There is a funfair, arts and crafts and plenty of refreshments. Something for the whole family.
Cost, a lot of activities are free, see the website for timings, events and if there's any costs
For further details see www.visitsaundersfootbay.com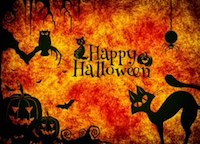 Halloween 80s Disco The Yard near Solva, Llandruidion Farm, SA62 6UG
Friday October 26th 6pm – 11.30pm
Go and have a dance to the great 80's music and they have refreshments from their horse box by Y Gegin Fach. There is also a prize for the best fancy dressed so you may fancy going in fancy dress and the price is a £50 voucher for St Davids Kitchen.
Cost is £5 only and they are cash only event. Over 18's only
For further details see there Facebook Page SDK at The Yard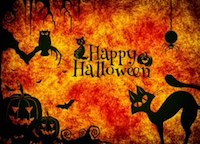 Pumpkin Patch Day Treginnis Farm for City Children  
Saturday October 27th 10am – 4pm
Come and join in games, there will be story telling, meet the animals and pick a pumpkin. Refreshments are available.
Cost is Free
For further details see www.farmsforcitychildren.org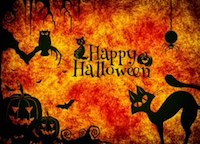 The National Botanic Gardens 
Saturday October 27th.
Event starts 5.30pm and the film begins 7pm
Love The National Botanic Gardens and they are celebrating Halloween with an Outdoors Cinema Spooktacular with screening the 1984 Halloween classic film, Ghostbusters. Where you can sit back and enjoy the classic film in the fantastic surroundings of the garden where there is music to set the spooky scene. There is a BBQ and bar for your refreshments as well as Halloween treats including toffee apples.
Come in fancy costume and as well as getting in the mood there are prizes for the best costumes.
Cost please check their website
For further details see www.botanicgarden.wales
Halloween Day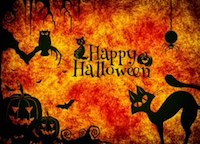 National Trust 
Wednesday October 31st 1pm – 5pm
Is holding a Happy Halloween at Southwood Farm ( near Newgale) are hosting a series of spooky activities! From broomstick making and face painting to creepy craft and a scary spider trail are just some of the activities. I know they will be making candle holders too as I dropped off a bag full of old honey glass jars to them.
Cost – What is really lovely is that it's Free entry, no booking is needed. You are to meet at Southwood Farm, SA62 6AR.
For further details see www.nationaltrust.org.uk/pembrokeshire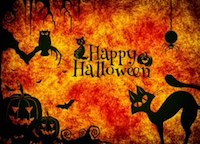 Castell Henllys Iron Age Fort
Samhain – Haunted Henllys October 31st 10:30am – 3.30pm
The Halloween we know today has developed from the ancient festival of Samhain. A time of bonfires, Sanger things are in store today at Castell Henllys. Enjoy the Haunted Henllys Ghost Walk, listen to spooky stories around the crackling fire, enjoy the haunting music before the burning of the wicker man!
10.30am – 11.45am Spooky activities
12.00noon – 12.45pm Ghost Walk
1.00pm – 3.00pm Spooky activities
3.00pm – 3.30pm Ghost stories in the roundhouse
3.30pm Burn the wicker man
Cost – Normal admission fees apply although it's free entry for children in costume. Ghost walk is £3. Other charges may apply.
For further details see www.pembrokeshirecoast.wales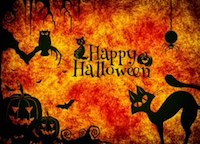 Gwili Steam Railway near Carmarthen 
Wednesday October 31st from 11am
Somewhere I have not been to but aim to go sometime next year, to go on the steam train when my dad comes down as he always say "we lost something when the steam trains came off the rails". His grandfather and my great grandfather was a Station Master, in the life and times of the steam engines.
Anyway back to Halloween! Take a ride onboard on the Halloween Ghost Express, ghostly rides on the lovely steam train with plenty of family friendly activities. Again there are prizes for the best fancy costumes.
Cost please see their website
For further details see www.gwili-railway.co.uk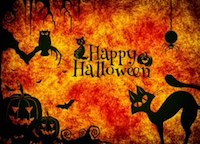 Scary Halloween Ghost Tour at Carew Castle 
Wednesday October 31st Starts 5pm – 6.30pm
Come for a walk around where you will have to keep your eyes peeled and your wits as you listen to all the tales and stories of ghostly sightings and who knows what may be lurking in the dark and the shadows.
Cost £7 adults, £5 children ( recommended for ages 8+ only)
Recommend to wear warm clothing, bring a torch. No dogs though.
For further details see www.pembrokeshirecoast.wales Recommended to book. enquires@carewcastle.com or call 01646 651782